1. What animal does the portrait in the Muggle Prime Minster's office resemble?
a. Rat
b. Frog
c. Cat
d. Lion
2. What drink does Romilda Vane try to give Harry?
a. Gillywater
b. Butterbeer
c. Pumpkin Juice
d. Elf-Made Wine
3. What is the name of the person who heads the Holyhead Harpies?
a. Gwenog Smith
b. Gwenog Jones
c. Glen Jones
d. Glen Smith
4. How many 'Exceeds Expectation' grades does Harry receive in his O.W.L's?
a. 6
b. 3
c. 5
d. 4
5. What is Professor Sughorn's favorite candy?
a. Cockroach Clusters
b. Sherbet Lemon
c. Acid Pops
d. Crystallized Pineapple
6. What tattoo is Harry reported to have on his chest?
a. Mermaid
b. Blast Ended Skrewt
c. Hippogriff
d. Unicorn
7. What color robes do the staff at the Weasley's shop wear?
a. Buttercup
b. Magenta
c. Royal Blue
d. Aqua
8. What is the man outside Flourish and Blotts selling?
a. Amulets
b. Cloaks
c. Wands
d. Hats
9. How much is the skull, which Hermione enquires about at Borgin and Burkes, worth?
a. 9 Galleons
b. 18 Galleons
c. 16 Galleons
d. 12 Galleons
10. What are Professor Slughorn's initials?
a. H.F.G.
b. H.E.F.
c. H.A.L.
d. H.K.D.
My favorite Harry Potter character should really be no surprise....
I mean, really, when you come across a character in any book that is so thoroughly channeling yourself, how can they not be your favorite? Though the following also come in a close second...
and
As to my favorite magical creature...that one is a toughy...in all honesty, even though I empathize with their enslavement and, at times, awful working conditions, I really wouldn't mind having my own....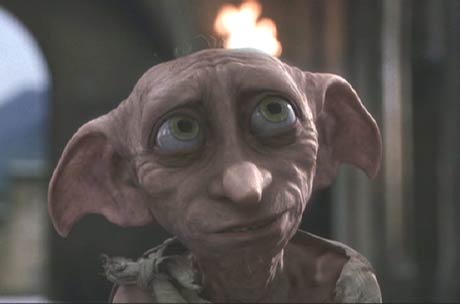 Though I guess if we're simply talking about a favorite, and not necessarily one you'd like to own, there's always these...
After all, I have always wanted to experience flying like a bird does...